Faux Wood Blinds - a Stunning Look at an Affordable Price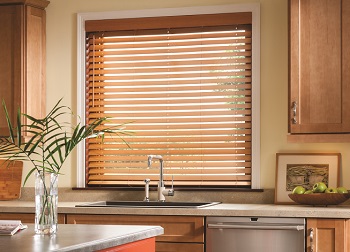 Wooden blinds are an extremely popular feature in a number of homes all across the country, but there are a number homeowners out there who would rather not have the pay the price that comes along with investing in the real thing. Luckily, there is an excellent alternative out there just waiting for you to find it. Here at Luv R Blinds, our team of window treatment experts can help you with the selection and installation of a brand new set of high quality faux wood blinds here in the Norco area. Not only are faux wood blinds so similar to the real thing that you might even have trouble distinguishing them, but they come in at a fraction of the cost of the real thing as well. Faux wood blinds can closely replicate the look and feel of almost any type of real wood blinds, so no matter what kind of aesthetic you are looking to give your home, there is a faux wood option out there that will fit it perfectly.
Here at Luv R Blinds, our team of experienced professionals have been helping homeowners in the local area for over twenty years with all of their shutter, shade and window blinds needs. We take this line of work very seriously, and we take a great amount of pride in the fact that we are able to consistently deliver such high quality service to each and every one of our valued customers. If you have any questions about our full line of high quality faux wood blinds, or if you would like to schedule an appointment for consultation with one of our specialists, give our window blind company in Norco, CA a call today. Our team of experts are always standing by and would be more than happy to assist you in any way we can.
Benefits of Faux Wood Blinds for Norco Area Homes
Apart from serving as a more cost effective alternative to real wood blinds, there are a number of other benefits to choosing faux wood blinds for your home. Faux wood blinds can be the perfect choice for rooms where real wood blinds might not fare so well. Real wood tends not to do so well in rooms that have a greater degree of moisture or humidity in the air, like the bathroom. In these instances, where real wood would tend to rot, faux wood won't suffer the same kind of fate. In addition, with faux wood blinds, you still have the wide range of colors and sizes to choose from like you would with the real thing. This gives you an incredible amount of control over the look of every individual room in your home. Finally, faux wood is much easier to clean and maintain than the real thing.
For quality faux wood blinds in Norco, CA and nearby, please call Luv R Blinds at 951-736-9650 or complete our online request form.
Latest Articles
How To Choose Modern Window Treatments For French Doors


Window blinds and shades are two of the most popular window treatments for French doors in the Norco area but did you know you can get shutters for your French doors? It's true! With so many different window treatments available today, it can get a little overwhelming to choose the perfect ones, especially when you're […]

READ MORE
Top 4 Benefits Of Interior Shutters For Your Home


When it comes to high-quality window treatments for your home, there are countless options available for you to choose from. With so many different options to consider, the process of making a selection can start to feel extremely overwhelming at times, but with the help of the right team of professionals, the task can be […]

READ MORE