Classic Roman Shades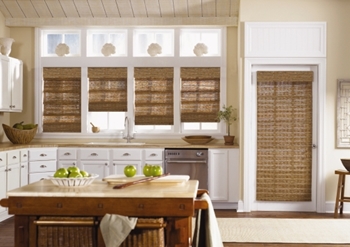 When you are looking for a high quality option to help control the amount of glare, light, and heat in your home, a brand new set of shades might be exactly the kind of thing you've been searching for. Shades can be an excellent option when you are looking for a high quality window treatment solution that will help to make your home more comfortable and more beautiful at the same time. However, there are a number of different shade types out there, and it can be difficult sometimes to find the one that is going to give you the perfect blend of aesthetic and function if you aren't familiar with them. Luckily, our team of experienced blinds, shutters, and shades experts here at Luv R Blinds are here to help. Our team of experts will work with you directly to help you find the perfect new shades that will give you the function you need while adding the most value to your home in the process. Never settle for anything less than the best when it comes to your shutters, blinds, and shades for your home.
One of the more popular options when it comes to shades are, without a doubt, Roman shades in Norco, CA and surrounding areas. What are Roman shades you ask? Well, the basic feature of Roman shades is that they are designed to stack or fold evenly when they are opened, but are designed to lay almost perfectly flat when they are closed. Roman shades don't have any gaps or openings like you would have with blinds or shutters with slats, and will give you the same even reduction of glare and light all the way through. Roman shades come in a wide variety of different materials and colors, so no matter what kind of design you have on the interior of your home, there is an option out there that will compliment it.
Norco Roman Shade Experts
When it comes to Roman shades, there are a number of different materials that are typically used in their construction. Fabric is the most common, with woven wood coming in at a close second. Roman shades are generally quite easy to clean since they are designed to lay flat, and typically have little need of maintenance or repairs. One of the primary benefits of Roman shades is that they can still allow light into your home, but it won't be direct sunlight. This can give the rooms in your home a comfortable glow without all of the glare that you would get from an open window. Because the light is filtered, this also means that the furnishings and your floors will be protected from the harmful UV rays that can cause fading and wear over time.
For quality roman shades in Norco, CA and nearby, please call Luv R Blinds at 951-736-9650 or complete our online request form.
Latest Articles
How To Choose Modern Window Treatments For French Doors


Window blinds and shades are two of the most popular window treatments for French doors in the Norco area but did you know you can get shutters for your French doors? It's true! With so many different window treatments available today, it can get a little overwhelming to choose the perfect ones, especially when you're […]

READ MORE
Top 4 Benefits Of Interior Shutters For Your Home


When it comes to high-quality window treatments for your home, there are countless options available for you to choose from. With so many different options to consider, the process of making a selection can start to feel extremely overwhelming at times, but with the help of the right team of professionals, the task can be […]

READ MORE