Vinyl Blinds That Offer Easy Maintenance & Great Appeal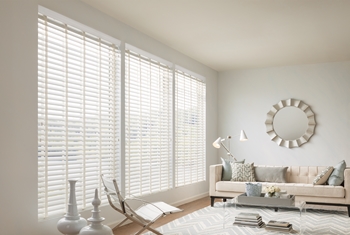 When you are looking to upgrade the interior of your home with new blinds, you are going to have a wealth of options open to you, and you might find it difficult to distinguish which one of those is going to be the best decision for your home. There are a number of things to take into account when you are deciding on new blinds for your home. How much light are you looking to block out? What kind of interior design are you trying to implement in your home? What material is going to last you the longest, and which one is going to continue to look good as it ages? There is no one right answer to all of these questions, but when you make the call to our team of experts here at Luv R Blinds, we will work our hardest to help you find the solution that is going to best meet your needs.
One of the most popular options among homeowners all across the country when it comes to high quality blinds is, without a doubt, vinyl. Vinyl blinds are one of the most widely used options when it comes to high quality blinds all across the country, and this is largely due to the sheer versatility they possess in terms of design options, and the durability of the material itself. If you have any questions about our full line of high quality vinyl blinds, or if you would like to schedule an appointment for consultation with one of our specialists, give our window blinds company a call today. Our team of experts are always standing by and would be more than happy to assist you in any way we can.
Best Prices on Vinyl Blinds in Norco & Surrounding Areas
When it comes to versatility among blinds, vinyl blinds are simply unmatched. Vinyl blinds come in a wide variety of different colors, finishes, textures, and even surface effects, so no matter what kind of visual aesthetic you are going for, you can find the perfect vinyl option out there to perfectly compliment it. In addition to the wonderful aesthetic they can bring to a room, vinyl blinds still give you that same excellent degree of complete light control in the rooms where you need it. In addition to their versatile nature, and their excellent degree of light and glare control, vinyl blinds can give you that excellent modern look in your home at a price that isn't going to break the bank.
For quality vinyl blinds in Norco, CA and nearby, please call Luv R Blinds at 951-736-9650 or complete our online request form.
Latest Articles
The Power of Convenience: Exploring the Advantages of Upgrading to Motorization for Window Blinds


In today's technologically advanced world, automation has become an integral part of our daily lives. From smart homes to connected devices, convenience is a top priority for homeowners. When it comes to window blinds, motorization is revolutionizing the way we control light and privacy in our living spaces. In this blog post, we will delve into the advantages of upgrading to motorization for window blinds[…]

READ MORE
How To Choose Modern Window Treatments For French Doors


Window blinds and shades are two of the most popular window treatments for French doors in the Norco area but did you know you can get shutters for your French doors? It's true! With so many different window treatments available today, it can get a little overwhelming to choose the perfect ones, especially when you're […]

READ MORE