Premium Quality Polycore Shutters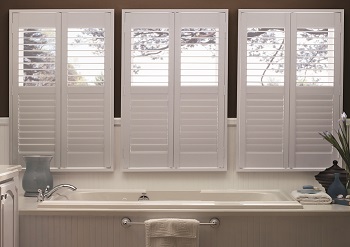 When it comes to high quality window treatment solutions for your home, in order to find the best option out there, it is important to make sure that you understand the difference between the various options available to you, and one of the best places to start is with high quality polycore shutters from Luv R Blinds in Narco, CA. Polycore shutters are a solid, synthetic window treatment option that that includes an aluminum core and baked on waterborne paint. This translates to a durable window treatment option that is highly resistant to both moisture and is fire retardant boot. In addition to their high level of durability, polycore shutters also act as a strong insulator against both the cold and the heat, helping you to save a great deal of money over time on your monthly heating and cooling bills. When you are looking for a brand new set of high quality window shutters, there are few options out there that can give you the same kind of long lasting quality that you will get from brand new polycore shutters in your home.
Here at Luv R Blinds, our team of shutter, blinds, and shades specialists have the skill and experience to help you find the perfect new window treatment solutions for your home based on your particular needs. Throughout our years of service to local homeowners in the area, we have developed a reputation for ourselves as a shutter company that goes above and beyond to make sure that every one of our valued customers get the exceptional service and results that they need to keep their home looking and functioning its best. If you have any questions about our full line of high quality polycore shutter installation, or if you would like to schedule an appointment for consultation, give us a call today. Our team of experts are always standing by and would be happy to help.
Polycore Shutter Installation Specialists
When it comes to attractive window treatment solutions, polycore shutter rank right up there among the top of the list. Since your shutters are going to affect both the exterior and the interior look of your home, it is important to make sure that you have the right options in place, and that you've given the issue some serious thought. Polycore shutters are a great way to get that classic look of natural wood, but at the price of a synthetic alternative. Here at Luv R Blinds, we believe that you should never have the settle for anything less than the best when it comes to your home's window treatment solutions, which is precisely why we work so hard. Don't take any chances when it comes to the level of quality service that you put into your new shutters. Call our experienced shutter installers today!
For quality polycore shutters in Norco, CA and nearby, please call Luv R Blinds at 951-736-9650 or complete our online request form.
Latest Articles
The Power of Convenience: Exploring the Advantages of Upgrading to Motorization for Window Blinds


In today's technologically advanced world, automation has become an integral part of our daily lives. From smart homes to connected devices, convenience is a top priority for homeowners. When it comes to window blinds, motorization is revolutionizing the way we control light and privacy in our living spaces. In this blog post, we will delve into the advantages of upgrading to motorization for window blinds[…]

READ MORE
How To Choose Modern Window Treatments For French Doors


Window blinds and shades are two of the most popular window treatments for French doors in the Norco area but did you know you can get shutters for your French doors? It's true! With so many different window treatments available today, it can get a little overwhelming to choose the perfect ones, especially when you're […]

READ MORE