Top Quality Wood Blinds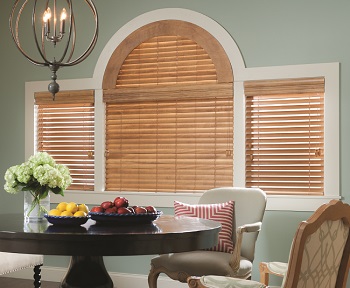 When you are looking for the absolute best in wood blinds in Norco and the surrounding area, the only name in quality that you need to know is that of Luv R Blinds. At our window blinds company our team of experienced professionals have the skill and experience necessary to help you find the perfect new window treatment options for your home and give you a professional window blind installation that is guaranteed to last you for a long time to come. We take a great amount of pride in the high quality work and results that we are able to deliver to each and every one of our customers, and we believe that shows through in every job we are called on to perform.
There are few window treatment options out there that can bring the same level of warmth and natural beauty to your home that natural wood blinds can. Wood blinds come in a variety of different colors, stains, and styles, so no matter what the interior design of your home might be, there is an option out there that will go with it. If you have any questions about our full line of high quality wood blinds services, or if you would like to schedule an appointment for consultation with one of our specialists, give us a call today. Our team of window blinds experts are always standing by and would be more than happy to assist you in any way we can.
Professional Wood Blinds Installation in Norco, CA & Surrounding Areas
In addition to their stunning appearance, wood blinds can have a number of other advantages when you make the choice to have them installed in your home. Some of the more notable of the advantages include:
Adding to the property value of your home. Even if you aren't looking at selling anytime soon, taking steps to keep your property value high is a great way to protect your investment.
Because wood blinds can be stained to match just about any color out there, they can be made to go with almost any decor scheme out there.
Wood blinds are great as an additional layer of insulation around your windows. This small extra layer of protection can go a long way in helping you to keep control of your monthly energy bills, and also helps to make your home a bit more environmentally friendly to boot.
For quality wood blinds in Norco, CA and nearby, please call Luv R Blinds at 951-736-9650 or complete our online request form.
Latest Articles
How To Choose Modern Window Treatments For French Doors


Window blinds and shades are two of the most popular window treatments for French doors in the Norco area but did you know you can get shutters for your French doors? It's true! With so many different window treatments available today, it can get a little overwhelming to choose the perfect ones, especially when you're […]

READ MORE
Top 4 Benefits Of Interior Shutters For Your Home


When it comes to high-quality window treatments for your home, there are countless options available for you to choose from. With so many different options to consider, the process of making a selection can start to feel extremely overwhelming at times, but with the help of the right team of professionals, the task can be […]

READ MORE