Top 4 Benefits Of Interior Shutters For Your Home
---
---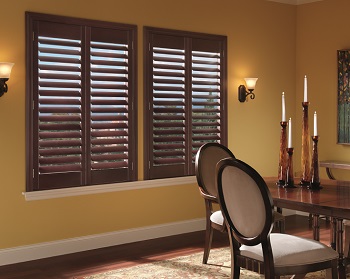 When it comes to high-quality window treatments for your home, there are countless options available for you to choose from. With so many different options to consider, the process of making a selection can start to feel extremely overwhelming at times, but with the help of the right team of professionals, the task can be a great deal easier. Here at Luv R Blinds, we like to do everything in our power to ensure that local Norco homeowners have the high-quality window treatments they need to bring the right combination of function and beauty to their homes, and if you have never considered interior shutters before, now might be the time to add them to your list of considerations. To help highlight just a few of the many benefits that interior shutters can bring to your home, our team of Norco blinds, shutters, and shade experts have taken the time to put together this short list that we hope you will take a few minutes to read through before making your final decision.
Visual Appeal
The level of visual appeal your new window treatments are going to bring to your home's interior is a major consideration in the selection process for most homeowners. With that being said, interior shutters are a great way to create a distinctive, classic look for the inside of your home that never goes out of style. Regardless of whether you choose to go with wooden shutters or polycore, interior shutters can help you dramatically enhance the interior beauty, and value, of your home. In addition, with so many different shutter styles for you to choose from, you can rest assured that you will find the option that is perfectly suited to the kind of look you are trying to create in your home.
Long-Lasting Investment
One major advantage that interior shutters have over blinds or shades is their natural longevity. Interior shutters are highly durable and fade-resistant, making them an excellent long-term investment for your home. Because the slats on your interior shutters are built to be more sturdy than the slats you would find on most blinds, shutters can be an extremely effective option for active households that have pets or smaller children.
Effective Temperature Control
When the summer sun is blazing, the right set of high-quality shutters can be a very effective method of helping to combat the buildup of heat inside your home. When closed, interior shutters can effectively act as an additional layer of insulation around your windows, helping to keep the heat out during the summer, and also keep warmth in during the winter when the temperatures start to drop. In addition to helping improve the comfort of your home, this additional layer of insulation can also help you save a good bit of money on your energy bills every month.
Better Light Control
Enhanced light control is another excellent benefit that interior shutters can provide to your home. Interior shutters are exceptionally effective at controlling the flow of light through your windows, with the adjustable slats allowing you to let in as little or as much light as you like at any given time. If you are looking to keep the glare from becoming unbearable during the middle of the day, all you have to do is draw the slats closed, and if you are trying to brighten it up, just open them again partway, or all the way. This can help you take complete control over the ambiance in any room of your home.
If you are looking for a Norco blinds, shutters, and shades professional, give us a call today at 951-736-9650 or fill out our online request form.